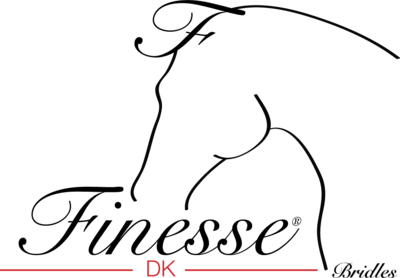 Finesse Double Bridle Cayenne - Black
Elegant double bridle with plain leather in black, featuring black padding and silver buckles.
TOP Retailer Europe 2022
Fast Delivery
Large Selection
Excellent Service
Product description
Reviews
Care advice
Terms & Conditions
Elegant double bridle with plain leather in black, featuring black padding and silver buckles.
This double bridle is designed with anatomical properties, featuring a unique crown piece which prevents pressure- and muscle injuries on the horse's neck muscles. The double bridle is provided with a thin brow band with neat silver colored clincher and a wide well padded noseband tone in tone. Cayenne by Finesse Bridle is truly elegant featuring pretty thin straps and buckles at the neck, on top of the specially designed crown piece.

Please note that reins are purchased separately!
Color: Black/Black

Info concearning the crown piece
Have you ever tried to get a finger under the crown piece after putting the headstall on the horse? Usually you barely fit one finger. 

Finesse Bridles uses a completly different design when it comes to crown pieces in comparison to other headstalls on the market. Finesse's bridles and double bridles features a crown piece, developed to evenly ditribute and reduce the pressure on the horse's neck. The technology behind the crown piece is developed by engineers and experts in the area, who have also developed hospital matresses for bedridden patients where bedsores and pressure sores are common problems. The crown piece is crafted in a unique fiber material which allows blood flow through the body (neck) regardless of how the horse is built.

The names behind Finesse Bridles
A study conducted by two veterinary students and Dr. Adrian Harrison on 12 Icelandic horses showed that all horses got a significantly better movement through the whole body with Finesse's unique crown piece compared to a "regular" bridle. This means that the horse is not exposed to the same muscle overload as with a "regular" bridle. Though, it is not just the horse's neck and throat which is positively affected by this crown piece, also Splenius & Brachiocephalius (which are the two myofascial lines that have a great influence on the entiere horse's movements, from the neck down to the hind legs.) A more detailed report on the subject made by the Faculty of Health and Medical Sciences, University of Copenhagen is available.