Eva Perninge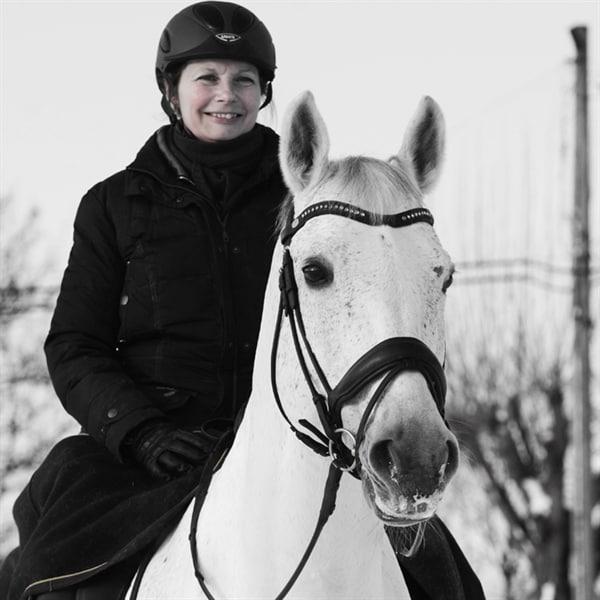 Eva Perninge founder and owner of Hogsta Ridsport has since the start in 1993 had the overall responsibility for shop and web shop.
A large number of areas of responsibility have been gradually delegated to talented employees in the store, but Eva still has the overall responsibility for the business as well as for purchasing and planning.
The interest in riding boots means that Eva today also takes care of measuring and testing of riding boots to a great extent herself.
Eva's great passion for equestrian sports and horses comes in handy in the shop. The many years in the sport mean that Eva can participate and consult in many contexts.
Among Eva's experiences can be mentioned that she has competed up to Grand Prix dressage, runs the Hogsta Equestrian Center since the early 1980s, conducted Swedish warmblood breeding with a number of nice offspring and worked as an instructor both at the riding school and with private lessons. Eva has also worked with food (ICA) and has run a café business, which can also be noticed when you come to the store.
In conclusion, one can say that Eva has worked with horses in some form throughout her life and thereby met with many interesting horses and people who have all contributed with new insights. We can only guess that it will continue the same way well ahead. A little curiosity: Eva's first horse was a standardbred. Eva is training for Louise Nathhorst and has done so for many years but has also been in Holland on several occasions and there trained for Hans Peter Minderhoud. We can thank Lussan for the fact that it became an equestrian store at Hogsta, as it was she who peeped Eva just after the tragic loss of Eva's then top horse (Cavat).